Ann Luke  MREC        Managing Director
Ann has worked in recruitment for 30 years (Yes, from Nursery school!). Starting as an Administrator, Ann worked her way up to Board level. However, she felt the time was right to start her own business. The vision was simple, to deliver service excellence to local clients and candidates every time . Ann believes unequivocally in personal service and building long term relationships and this has led to the success of the now recognised Mulberry brand.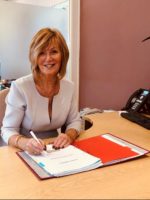 Louise Hawker        Director
Louise joined Mulberry in 2010 as a Trainee Recruitment Consultant and following a very successful 6 years was promoted to Permanents Manager  in 2015 and in 2020 was made a Director . Louise has an energy and enthusiasm for recruitment not found in many recruiters and has many recommendations from happy candidates and clients praising her friendly and professional manner.  Like Ann, Louise is totally committed to building strong and lasting relationships with everyone she comes into contact with at Mulberry.
The Team
Sian Davies – Temps Manager
Started working for us a 5 years ago as our office Administrator/Resourcer having previously worked for an Airline. After several months Sian was promoted to a Permanent Consultant and has many testimonials from satisfied candidates and clients. Following 3 years as a permanent consultant she was promoted to Temps Manager in August 2019 .  She is always positive in her approach and works really hard to ensure she delivers what her clients and temporaries want. She has many talents including skiling ice skating and even playing the bagpipes, not all at the same time!! Just ask her.
Becky Thorne – Recruitment Consultant


Becky only joined our team in February as a Trainee Recruitment Consultant  and has previously worked as an Account Manager and a Project Development Executive and luckily for us, thought that Recruitment was path she wanted to take and bring her many skills in Customer Service, organisation and problem solving! Becky has played Rugby for some years and belongs to a local rugby team where she trains weekly and plays matches regularly and l know one of her highlights was meeting Jonny Wilkinson!! Becky was promoted to Permanent Consultant in July 2019 and has really settled in to her new career.
Bethany Poole – Recruitment Administrator/ Resourcer


Bethany has recently joined our team. As Mulberry Recruitment expands, Bethany will be responsible for the Recruitment Administration/ Resourcing of temporary positions. Having previously worked in recruitment, knowing this is something she is good at and enjoys, Bethany is eager to fulfil this position after being on Maternity leave for a year. Bethany is a driven, outgoing and motivated to continually improve the duties required at Mulberry Recruitment. Outside of work, Bethany enjoys looking after her one year old daughter, spending time with family and doing yoga at home.
Sophia Nandhra – Sales Consultant
Sophia background is within Sales along with a bachelor's degree in Media & Cultural studies. Sophia's expertise is in sales, communications and the way relationships are formed. From old-fashioned sales skills taught over time in-house, to an enquiring mind that can truly finesse a proposition and a way of looking at a desired outcome and working out the most efficient way of achieving it.
Outside of work Sophia is a mummy, to 2 little humans who keep her on her toes. She loves cooking, baking and trying to keep fit by going to the gym. Sophia also loves keeping up to date with the latest fashion trends.